Penguin Journal
April 7, 2001
Dateline: Little Rock, AR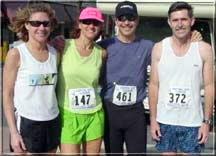 It was déjà vu all over again!
I was in Little Rock for the Capital Classic 10K. Before I tell the story, I must tell you that the race itself and the runners in Little Rock are fantastic. They welcomed me warmly and treated me with the kind of good-natured lack of respect that I deserve!!
When I say they were fantastic. I mean they were fantastic. ALL the 1st place finishers in the men's age groups up to age 65-69 ran under 40 minutes for the 10K. Think about that for a minute. The winner of the 60-64 year old male age group ran a 39-minute 10K.
I knew I was in trouble when I lost sight of the leaders before the first 1/4-mile mark in the race. I knew I was really in trouble when I lost sight of the pack before the first mile marker. And I knew I was really, REALLY in trouble when I lost sight of the back of the pack before mile three.
It reminded me of one of my first races. At that race, I was fiddling with my watch when the gun went off. When I looked up, I was standing there by myself. The entire pack left me behind like I was tied to a tree.
Caelli (pronounced Kelly), an Arkansas penguin, and I ran together and had a great time. We're both such good talkers that we had to slow down near the end of the race because we hadn't finished our conversation. Another new penguin, Brenda, and an old-time penguin, Rickey Gilcrease, left us in the dust, but joined us for the fun at the awards ceremony.
As they called out the winning times in the age groups, we kept looking at each other in disbelief. It's just wrong, we said to each other wrong that everybody should be that fast.
But it's a very "penguin friendly" race, with great support for everyone on the course from the first to the last. I'd like to go back some day. Maybe when I'm 80 years old or so. Seems to me it will take that long for the rest of those runners to slow down to my pace.
Takin' it to the streets...
John
---