No Need for Speed!
We're really excited to announce that John's new book—No Need for Speed: A Beginner's Guide to the Joy of Running—will be published in April 2002 by Rodale Press. Check here for more information and watch for it in the bookstores!
2002 Penguin Flight Schools: Weekend Running Workshops for Adult Onset Athletes
Bring your running shoes and leave the rest to us! Run or walk to a healthier you. Lose weight and shape up. Get inspired. Stay motivated. Train smarter, not harder. Learn about lifelong fitness, diet and nutrition, shoes and apparel. Get training strategies to reach your potential, find your training zones, and set up a training schedule. Free use of a heart rate monitor for the weekend. Discounts on purchase. For runners of all levels, whether you've been active a year or a lifetime. Please note that the February workshop in Houston has been cancelled.
May 18-19—Washington DC
June 15-16—Juneau AK
June 29-30—Seattle WA
September 21-22—Chicago IL
Click here for more information and/or a registration form or email [email protected]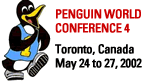 Fourth Annual Penguin World Conference May 24-27, 2002 Toronto Is the PLACE!
Toronto 2002: A great city. A great value. A great encounter. Mark your calendar and make your travel plans now! The location and dates for the Fourth Annual Penguin World Conference have been announced.
The Toronto Penguins will host the Fourth Annual Penguin World Conference, in Toronto, Canada Friday, May 24 to Monday, May 27, 2002. The conference will be held to coincide with a Toronto-area marathon, half marathon, 5K and marathon relay distance race.
Glenn Gabriel, penguin extraordinaire of Toronto, is the lead organizer, part of a team that includes the entire Toronto Penguins Running Club. Stay tuned for more details! We invite all Penguins to gather in Toronto next May for our fourth annual….and first international…world conference!
For the latest and greatest info on the conference, check the website at: http://www3.sympatico.ca/dgegear/
Where's the Penguin?
John will be busier than ever in 2002. Look for him at these events…
Date
City
State
Event
July
13-14
Chicago
IL
Chicago Distance Classic
25-27
VA
Camp Odyssey & Odyssey One-Day Adventure Race
August
18-25
AK
Runner's World Alaska Cruise
September
Ag 29-Sep 2
Virginia Beach
VA
Rock N Roll Half Marathon–Race Founder, Clinic Speaker
21-22
Chicago
IL
Penguin Flight School
28-29
Appleton
WI
Fox Cities Marathon
October
4-7
Portland
OR
Portland Marathon
12-13
Chicago
IL
Chicago marathon
16-21
Columbus
OH
Columbus Marathon
24-28
Washington
DC
Marine Corps Marathon–TNT Speaker
That's all for now, folks. Be careful out there!
Karen B