Penguin Journal
January 7, 2001
Dateline: Walt Disney World – Orlando, Florida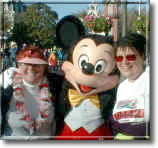 How can spending a weekend at Disney World be bad? It can't! Those of you who have been there know. It's the "House of the Mouse"--a place where escaping the ordinary is as easy as walking out the door of your room.
The Disney Marathon and Half-Marathon take full advantage of this magical setting. From the start--with Mickey Mouse rising up out of nowhere into the early morning sky--to running through Cinderella's castle, the participants are treated to the best that Disney has to offer. And it shows.
Running through the Magic Kingdom on the coldest January 7th on record, through the cloud of my own breath and the steamy mist off the runners ahead of me, the already "magical" experience seem even more surreal. I was in Florida, running in temperatures that were likely to be colder than the marathon I will run in Antarctica on February 5. Go figure.
I ran the half marathon this time; in part because I wanted to get to the finish line of the marathon to congratulate others and in part because I really wanted the Donald Duck medal. I also managed to wrangle a press pass and sat in the media tent for a while to see the way the business end of running journalism works.
The finish line of any marathon is an emotional experience. Somehow, though, the finish line at Disney is even more so. The people who cried seemed to cry harder. The people who were happy seemed almost delirious. No one had the look of disappointment that you sometimes see at the finish line.
Maybe it's because Mickey or Minnie Mouse greet you as you finish. Maybe it's because other beloved characters from your childhood have been out on the course cheering for you. Maybe it's because the racecourse is blessed with the magic of Disney. I don't know. What I do know is that I'll be back every chance I get.
On to San Diego and then Antarctica. Stay tuned….
Takin' it to the streets...
John
---