Penguin Journal
Dateline: Athens, Greece
November 13, 2000
Back to the Future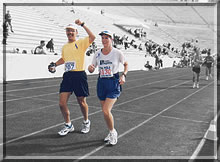 When Jeff Galloway invited me to run the 2000 Athens marathon, it took me about one nano-second to say yes. After all, how could I turn down the chance to run the original route taken by Phiddipidies and finish in the stadium built in 1896 for the first modern Olympiad? My imagination was no match for the extraordinary emotions of the run.
I'll admit freely that I knew little about Greek history in general and Olympic history in particular. As an American, I tend to think that 200 years is a LONG time. Standing on the grounds of buildings that date back nearly 3,000 years changed my perspective. This was history… in HISTORIC proportions.
A small group of us started the race about an hour before the "official" start. We had tacit approval to start early, with the understanding that we wouldn't be eligible for any age group awards. I explained that not being eligible for an award was the LEAST of my concerns. I just wanted to run the course.
And run it we did. We stayed together like a military troop for the first half, running two-by-two. We rotated the lead so that everyone had the chance to be out front. The time seemed to FLY by. Before we knew it, the leader was running past us.
At the halfway point, the large group began to separate into smaller groups. Those who felt strongest went on ahead. Others lingered behind. All felt the inescapable presence of the history of the course.
It is a VERY difficult course, by the way. It begins to climb at about mile 9 and doesn't STOP going up until mile 20. With about 10K to go it heads downhill some, but at that point I was so trashed that I barely noticed.
It is the finish, though, that truly distinguishes this race from any other. We took a simple left turn and found ourselves staring into THE stadium. THE very stadium in which the first modern Olympics were held. THE stadium where those first marathoners crossed the first finish line.
It was almost more than I could comprehend. Looking up into the stands, which were still nearly full at that point, hearing the cheers, seeing the flags, feeling the power of the strength of thousands of runners over hundreds of years was overwhelming. As we circled the track before crossing the finish line I felt transported to a different time.
All marathons cover the same distance. 26.2 miles. But this one was very different. I finished this one with more pride, with more of a sense of my own history than any other. It was an historic race.
Takin' it to the streets...
John
You can read Karen's account of the race here.
---