Penguin Journal
Dateline: Washington, D.C.
October 23, 2000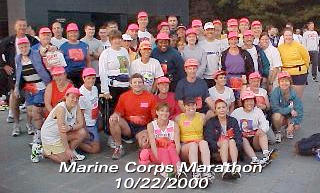 We came, we saw, we ran, we ate, we hugged, we cried.
This weekend was both the 25th running of the Marine Corps Marathon and the 5th running of the Penguin Brigade in the Marine Corps Marathon. Both were emotional. Both were huge successes.
The Penguin Brigade began as a group of eighteen runners preparing for the 1996 Marine Corps Marathon. We were a diverse group, with finishing goals ranging from a Boston qualifying time of 3:25 to a life-changing, self affirming crossing of the finish line and getting the medal. This year was the same, but very different.
The Brigade, as a virtual training list, has grown to nearly 1,000 members. The Penguins, as a force in the running community have grown to proportions that no one could have imagined in 1996. What was once barely a footnote in the world of running has become one of the most powerful forces in road racing.
The weekend was very emotional for me. As much as I would like to believe that I've had some small part in making this all happen, it's clear when you see the strength and depth and character of this year's Penguin Brigade MCM group, that I merely opened a door through which this wonderful group marched.
We had some of the original Brigadiers in attendance, as well as members from all the intervening years. There were old Penguins, new Penguins, young Penguins, and NOT so young Penguins. They came from all over the US and Canada to run their best, to share their experiences, and to feel a part of something much larger than themselves. And they all succeeded.
There were moments of absolute joy and celebration unmatched my anything in my life. Not so much like a family reunion, but more like a group of people discovering that they are part of a family that they never knew.
My own abbreviated race went according to plan. I paced the 5-hour Galloway group to a 2:28 half marathon, and then ran to the 16-mile marker. The Athen's Marathon is two weeks away, and it's now just a matter of tapering.
The Columbus, Ohio marathon is this weekend. It was my first marathon, and one of my favorite places to be on marathon weekend. More from Columbus next Monday.
Takin' it to the streets...
John
---