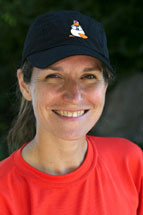 Coach Jenny Hadfield (Inge Johnson photo)
Train with Coach Jenny
Jenny Hadfield has been in the fitness field since 1989. She is the co-author, along with John "the Penguin" Bingham of Marathoning for Mortals, and is a writer, coach, adventure athlete, and highly sought after running clinician.
Jenny is a fitness expert who has trained thousands of athletes of all levels. She is co-owner of Chicago Endurance Sports, Chicago's largest multi-sport company.
Jenny is the official coach of John Bingham Racing. She prepares training programs for each JBR event. Her programs include a walk, walk-run, run-walk, and run schedules. She also provides weekly coaching tips for the JBR Virtual Training Team.
She shares her passion by hosting clinics for women and girls called ...Like a Girl Clinics. From hiking to running to Snowshoeing Jenny shares her experience and knowledge to encourage and motivate women to reach beyond their comfort zones and improve their self-confidence.
Jenny is an accomplished athlete and has competed in adventure races all over the world including Eco-Challenge Borneo 2000, New Zealand 2001, Fiji 2002 and the Antarctica Marathon 2003.
Jenny lectures around the nation on her Adventures in Life motivating employees, clubs and schools to reach for their best and go beyond their comforts in life.
Also see www.jennyhadfield.com.