JBR Athletes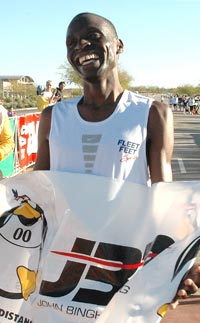 Daniel Cheruiyot
John Bingham Racing is proud to support Daniel Cheruiyot as a John Bingham Racing athlete and employee. Daniel has become quite an ambassador for JBR as well as for the sport of running. Daniel has been the John Bingham Racing champion for a number of years as he is the only person to win each one of the John Bingham Racing Half Marathon Series events at least once.
Formerly an eight time All American at Malone College in Canton, Ohio, Daniel has developed a successful professional career since his graduation. Since Daniel moved to Albuquerque, New Mexico last October, the altitude training has really begun to pay off. After winning the inaugural Arizona Distance Classic in March, he came in an impressive 3rd at the Indiapolis Mini Marathon with a time of 1:04:02 and then won the Litchfield 12k in a time of 35:25.
We are proud to support a talented athlete and great person like Daniel.
See Daniel's running bio here (PDF).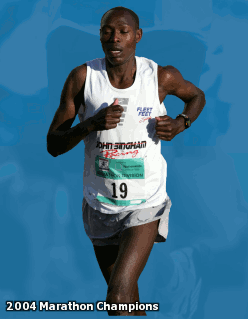 John Bingham Racing athletes sweep 2004 Columbus Marathon
For the first time in history, two athletes from one team dominated and won their divisions in the Columbus Marathon.
John Bingham Racing is proud to sponsor highly qualified professional athletes.
If you would like to be a part of the John Bingham Racing team, please contact David Babner.