Home | Biography | Schedule | Running resume | John in the media | Press | Training | Blog | Contact
"The miracle isn't that I finished. The miracle is that I had the courage to start."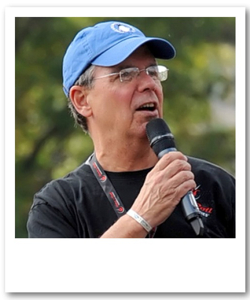 John Bingham is an author, columnist, and comic, and the spokesperson for the slow-running movement. Known to his flock as "The Penguin" for his waddling pace Bingham has, for two decades, encouraged runners of all shapes, sizes, and speeds to follow his example and change their lives for the better by taking up the sport. His popular column The Penguin Chronicles ran for 14 years in "Runner's World" magazine and now appears in "Competitor" magazine. Bingham has written several books including "An Accidental Athlete", a memoir that tells for the first time the story of how Bingham took up running at the age of 43 to become the unlikely icon of today's running boom. Bingham is spokesman for the Leukemia & Lymphoma Society's Team In Training program and voice of the Rock'n'Roll marathon series.
---

---