JOHN "the Penguin" BINGHAM

Profile

At 43 years old, John Bingham began the transition from 240-pound coach potato to athlete. At age 53, this popular writer and speaker has become the Pied Piper of the second running boom. John is the prototypical Renaissance man. From motorcycle mechanic to graduate advisor, from freelance musician to marathon pace leader, John brings a relentless spirit for living into everything he does. His humorous insights bring hope and inspiration to legions of fans.
Writing
The Penguin Chronicles, a monthly column in the US, UK and Australia/New Zealand editions of Runner's World magazine. May 1996 - Present
Marathon Running for Mortals: A Mere Mortal's Guide to the Joy of Running or Walking a Full or Half Marathon; co-authored by Jenny Hadfield, Pan MacMillin UK, February 2004
Marathoning for Mortals: A Regular Person's Guide to the Joy of Running or Walking a Full or Half Marathon; co-authored by Jenny Hadfield, Rodale, May 2003
No Need for Speed: A Beginner's Guide to the Joy of Running, Rodale, April 2002
The Courage to Start: A Guide to Running for Your Life, Simon & Schuster, April 1999
The Penguin Brigade Training Log 2nd Edition, co-authored by Jenny Hadfield, Breakaway Books, May 2003
Major Event Appearances
Boston Marathon
Chicago Marathon
Flora London Marathon, 1997-2004
Rock and Roll Arizona
Honolulu Marathon
San Francisco Marathon
Columbus Marathon, Columbus, OH
Road Runner Akron Marathon
White Rock Marathon, Dallas, TX
Cowtown Marathon, Ft. Worth, TX
Myrtle Beach Marathon
Marine Corps Marathon
New York City Marathon
Walt Disney World Marathon
Suzuki Rock 'N Roll Marathon
Country Music Marathon
Rock and Roll 1/2-Marathon
Indi Mini 500 1/2-Marathon
Motorola Marathon
Vermont City Marathon
Florence, Italy, Marathon
Wineglass Marathon
The Last Marathon, Antarctica
Bloomsday Festival, Spokane, WA
Athens Marathon
Summer Tours* 1997 Big Red Tour, 8 weeks
1998 Firebird Tour, 12 weeks
1999 Family Truckster Tour, 21 weeks
2000 Millenium Tour, 20 weeks
2001 Penguin Odyssey Tour, 20 weeks
2002 No Need for Speed Tour

Points of Interest
Recipient of 2000 RRCA Jerry Little Memorial Journalism
Excellence Award
Rode a motorcycle 3,500 miles and then ran the Suzuki
Rock 'N Roll marathon
Completed a marathon by running 433 laps around a boat
in Antarctica.
One of the founders of the Rock and Roll 1/2-marathon
Honorary race director of the Country Music Marathon
What no one knows
John has an earned doctorate in Education from the
University of Illinois
John was the Associate Dean of the Conservatory of
Music at Oberlin College
John was a professional musician and worked with
Frank Sinatra, Cher, and others
MUST READ!
Order Your Copy Today!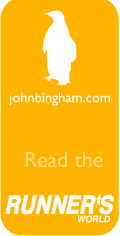 Sign up for the new Penguin Times eNewsletter mailing list!


Great sponsorship opportunities available now. Contact us at JohnBingham.com!
Sign Up!