Medal Logics

At Medal Logics, we specialize in a super cool line of InToIt Identification Medals for athletes and children. We encourage everyone to wear ID, just in case of an unexpected accident.
Accidents happen! Each year, over 450,000 of us are taken to hospitals unconscious and without Identification.

If you should experience an unexpected injury or sudden illness, when not at home, you want those who come to your aid to have quick easy access to YOUR IDENTITY. It could save your life, and will provide safety and peace of mind for you and your loved ones.

---
Penguin Thought of the Day
"Nothing in my experience was as powerful as crossing the finish line of my first race. With that single step, I overcame a lifetime of unkept promises to myself."
MUST READ!
Order Your Copy Today!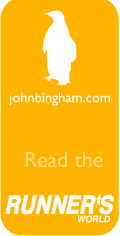 Sign up for the new TEAM PENGUIN mailing list!


Great sponsorship opportunities available now. Contact us at JohnBingham.com!
Sign Up!