Legal Notices Page

We hope you are enjoying the JohnBingham.com site. Our lawyers require us to inform you that JohnBingham.com provides its services to you subject to the following notices, terms, and conditions.

Copyright

All content included on this site, such as text, graphics, logos, button icons, images, and software is the property of JohnBingham.com or its content suppliers and is protected by U.S. and International copyright laws. This site or any portion of this site may not be reproduced, duplicated, copied, sold, resold, or otherwise exploited for any commercial purpose that is not expressly permitted by JohnBingham.com.

Trademarks

All trademarks, service marks and trade names (collectively the "Marks") are proprietary to JohnBingham.com or other respective owners that have granted JohnBingham.com the right and license to use such marks.

Reviews and Comments

JohnBingham.com enables and encourages visitors to its site to submit reviews, photographs, stories, anecdotes and other comments regarding any of the content and products featured or discussed on the site or on its message boards and listserves. If you submit any information, postings or comments on the site, you grant JohnBingham.com and its affiliates a non-exclusive, royalty-free, perpetual, irrevocable, and fully sublicensable right to use, reproduce, modify, adapt, publish, translate, create derivative works from, distribute and display such information, postings or comments throughout the world in any media. You also grant JohnBingham.com and its affiliates and sub licensees the right to use the name that you submit with any review or comment, if any, in connection with any such information, posting or comment.

Copyright Complaints

JohnBingham.com and its affiliates respect the intellectual property of others. If you believe that your work has been copied in a way that constitutes copyright infringement, please provide JohnBingham.com's copyright agent the following written information:* An electronic or physical signature of the person authorized to act on behalf of the owner of the copyright interest:
A description of the copyrighted work that you claim has been infringed upon;
A description of where the material that you claim is infringing is located on the site;
Your address, telephone number, and e-mail address;
A statement by you that you have a good-faith belief that the disputed use is not authorized by the copyright owner, its agent, or the law;
A statement by you, made under penalty of perjury, that the above information in your notice is accurate and that you are the copyright owner or authorized to act on the copyright owner's behalf.
JohnBingham.com's Copyright Agent for notice of claims of copyright infringement on its site is David Babner, who can be reached as follows:
David Babner
JohnBingham.com, Inc
C/O Purcell & Scott Co., L.P.A.
6035 Memorial Drive
Dublin, Ohio 43017
Phone: (614) 761-9990
Email: [email protected]
DISCLAIMER
THIS SITE IS PROVIDED BY JOHNBINGHAM.COM ON AN "AS IS" BASIS. JOHNBINGHAM.COM MAKES NO REPRESENTATIONS OR WARRANTIES OF ANY KIND, EXPRESS OR IMPLIED, AS TO THE OPERATION OF THE SITE OR THE INFORMATION, CONTENT, MATERIALS, OR PRODUCTS INCLUDED ON THIS SITE. TO THE FULL EXTENT PERMISSIBLE BY APPLICABLE LAW, JOHNBINGHAM.COM DISCLAIMS ALL WARRANTIES, EXPRESS OR IMPLIED, INCLUDING, BUT NOT LIMITED TO, IMPLIED WARRANTIES OF MERCHANTABILITY, AND FITNESS FOR A PARTICULAR PURPOSE. JOHNBINGHAM.COM WILL NOT BE LIABLE FOR ANY DAMAGES OF ANY KIND ARISISING FROM THE USE OF THIS SITE, INCLUDING, BUT NOT LIMITED TO DIRECT, INDIRECT, INCIDENTAL, PUNITIVE, AND CONSEQUENTIAL DAMAGES. WHILE WE AT JOHNBINGHAM.COM BELIEVE THAT AN ACTIVE AND HEALTHY LIFESTYLE IS A WORTHY GOAL FOR ALL OF OUR VISITORS, ANY PERSON WISHING TO BEGIN AN EXERCISE PROGRAM SHOULD CONSULT WITH HIS OR HER DOCTOR PRIOR TO COMMENCING ANY SUCH PROGRAM.

APPLICABLE LAW
This site is created and controlled by JohnBingham.com in the State of Ohio, USA. As such, the laws of the State of Ohio will govern these disclaimers, terms and conditions, without giving effect to any principles of conflicts of laws. We reserve the right to make changes to our site and these disclaimers at any time.
---

Penguin Thought of the Day
"I now know that there are days when it isn't the miles but the people who are the most important part of training. There are days when pushing my fear of being close to another human being does me more good than pushing my heart rate."

MUST READ!
Order Your Copy Today!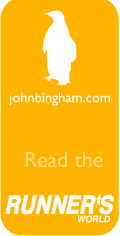 Sign up for the new TEAM PENGUIN mailing list!


Great sponsorship opportunities available now. Contact us at JohnBingham.com!
Sign Up!