In his first book, John describes his sometimes painful, sometimes hilarious transition from sedentaary confinement to becoming an adult-onset athlete
Nearly a decade into his running career, John discovers and shares the truth about the joy of running at every distance, and every pace. A book for old and new runners alike
JUST RELEASED
Once considered a superhuman accomplishment, the Marathon and Half Marathon are now within the reach of mortals everywhere. Let John and Jenny show YOU the road to the Finish Line.
ALL NEW
New weekly inspirational quotes
NEW: Fuel log to track your diet
NEW: "I-Rate" scale to track your effort
NEW: Penguin Pace Chart for races
---
Penguin Thought of the Day
"Running doesn't need to take a lot of time. You're more likely to succeed if you find just a few minutes several times a week for running than if you devise an elaborate and completely undoable program that will fall apart in a few days."
MUST READ!
Order Your Copy Today!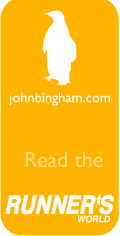 Sign up for the new TEAM PENGUIN mailing list!


Great sponsorship opportunities available now. Contact us at JohnBingham.com!
Sign Up!