Train with Coach Jenny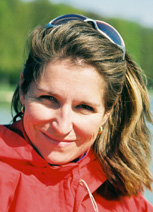 Jenny is a published author of three books (Marathoning for Mortals, Running for Mortals, Training for Mortals), writer, coach, speaker and endurance athlete. She has a Bachelor's degree in Exercise Physiology, a Masters Degree in Exercise Science and is a certified coach and personal trainer.
She is a Columnist and Running Coach for Health Magazine, writes an "Ask Coach Jenny" blog for RunnersWorld.com, and has written for Cooking Light, Her Sports, the Chicago Tribune, and Chicago Athlete Magazines.
Jenny began her running career struggling to get down the street. Step by step, she trained, raced and became a top-ranked endurance athlete. Her unique coaching style draws from her struggles to get started to crossing the finish line at the Boston Marathon. Whether your goals are to get started and try running or walking or qualify for the Boston Marathon, Jenny can help you reach them.
Coach Jenny has trained thousands of athletes of all levels. She is the Official Coach for The LaSalle Bank Chicago Distance Classic Half Marathon, Arizona Distance Classic Half Marathon, The LaSalle Bank Columbus Half Marathon, Scotiabank Toronto Waterfront Half and Full Marathon, OneAmerica Indy Mini Marathon and the Women's Training Consultant for The LaSalle Bank Chicago Marathon.
Coach Jenny is co-owner of Chicago Endurance Sports, Chicago's largest multi-sport company. She trains athletes one-on-one as well as online, guiding and motivating them to reach their goals.
Jenny is an accomplished endurance athlete and has competed in adventure races all over the world, including Eco-Challenge Borneo 2000, New Zealand 2001, Fiji 2002 and the Antarctica Marathon 2003. She is a Boston Marathon qualified runner and veteran of over 30 marathons.
Coach Jenny is a featured speaker at the Rock n' Roll Marathon Expo series and has presented at the New York City Marathon, Scotiabank Toronto Waterfront Marathon, Runner's World Cruise, Marine Corp Marathon, OneAmerica Indy Mini Marathon, and the St. George Marathon. She lectures around the world on her Adventures in Life motivating employees, clubs and schools to live their best life and reach beyond their comfort zones.
She shares her passion by hosting clinics for women and girls called ...Like a Girl Clinics. From hiking to running to kayaking, Jenny shares her experience and knowledge to encourage and motivate women to reach beyond their comfort zones, break through fears and improve their self-confidence.
Her recent projects include Running for Mortals and Training for Mortals. Her two new books written with running guru John "the Penguin" Bingham and are available autographed on this website.